morrigan wrote:Late WW1 on the Western Front is a period that has really caught my interest lately as well.
The battles of 1918 beginning with the Kaiserschlacht offensive until the end were increasingly more fluid in a way not seen since 1914 on the Eastern Front. Tanks, light automatic weapons, hand grenades, rifle grenades, trench mortars, flamethrowers, and the stosstruppen tactics the Germans developed had all changed the tactical ground combat environment in a profound manner, such that for purposes of 28mm wargaming at the man-to-man level there is plenty of scope for large tactical level battles.
A typical infantry platoon of 1918 would have multiple automatic rifles or light machine guns, hand grenades, rifle grenades, and even be accompanied by heavy machine guns or trench guns in support. Allied troops especially the French and Americans could have light tanks -the Renault FT-17- in support as well.
A fast build yet reasonably detailed and accurate FT-17 in 1/56 (28mm) scale would be a very handy model for collectors, historical gamers, and even sci-fi gamers and model builders, as nearly 3,000 of them were built during the Great War, and many hundreds soldiered on into conflicts between the World Wars, through WW2, and some even turned up in Afghanistan as static pill boxes earlier this century(!).
Squad boxes such as already are in production for WW2 would be the perfect building blocks for WW1 gamers in 28mm. A selection of head options including wearing gas masks would be ideal, with the necessary rifles, light automatic weapon(s), and etc. to build out a pair of typical rifle squads would be near perfect. If extra weapons and bit to covert some of the figures into trench raiders/stosstruppen were included, so much the better. My suggested configurations would be:
*Germans. M1915 stahlhelms, gas mask containers, KAR 98 rifle, MP18 sub machine gun, Luger pistol with snail drum, MG 08 "light" machine gun, ammo containers for MG '08, potato masher grenades, empty sandbags used as grenade bags for stosstruppen, entrenching tools including a couple of the sharpened variety as improvised melee weapons, bayonets, and a flamethrower to convert two figures to a Pioneer Flammenwerfer team.
*French. M1915 Adrian helmets, gas mask containers, Lebel and/or Berthier rifles, VB rifle grenade launcher mounted on a Lebel rifle, Chauchat automatic rifle, spare Chauchat magazines, hand grenades, bayonets (these should be thickened to prevent breakages, as the actual Lebel epee bayonet was itself very thin and annoyingly fragile, entrenching tools, a selection of improvised melee weapons, and a double barreled shotgun for trench raiding.
*American. M1 trench helmets, gas masks (these can be the same as the French or British set depending upon the model chosen), Springfield rifles, VB rifle grenade launcher on Lebel rifle, Chauchat automatic rifle, spare Chauchat magazines, sawn off lever action shotgun, grenades, bayonets, M1911 pistols.
*British. Trench helmets, gas masks, Lee Enfield rifles, Lewis machine gun, spare Lewis magazines, grenades, rifle grenade launcher, double barreled hunting shotgun, revolvers, improvised melee weapons.
Certain weapons were interchangeable, such as the Lewis gun (used by German stosstruppen in preference to the heavier, clumsier MG '08), and the Chauchat (used by both the French and the AEF). Gas masks used by either the British or the French were used by the Doughboys and Marines in the AEF. The same for hand grenades. Captured German flamethrowers were turned on their former owners by both the French and the Americans on a number of occasions. French troops could double as the tough colonial troops of the Armee de Afrique, including the Legion Etranger (Foreign Legion) with the simple expedient of painting them in mustard khaki rathe than horizon blue: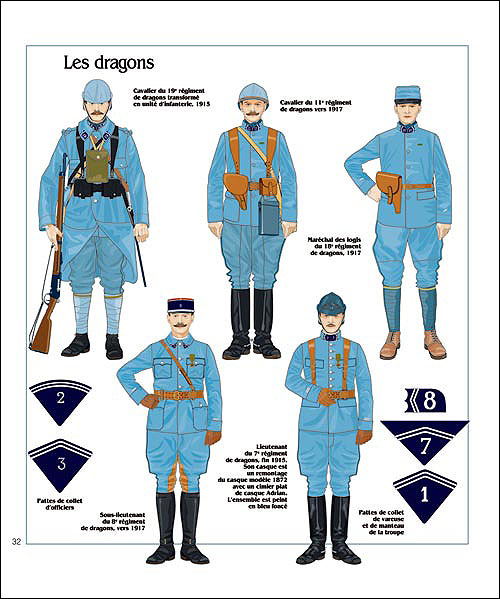 Some examples of trench raiders and experimental trench armor:
Of course, WF could go a bit on the wild side, and issue U.S. Marines in their distinctive tunics and trousers: